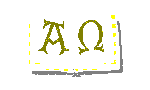 ---
Apologies.
---


Sincere apologies for NOT having updated these pages regularly/ according to the weekly schedule since the end of September (1998).

Change in the "system" at work has made work enormously overloaded.

However, with a review of commitments and re-assessment of priorities, things should get back to "normal", at least for this website, in the near future.

God willing.

Please pray for me.

D.T.

22 Novemebr 1998.
---
Click on the Back button, if you wish to return to the previous page.
---
Main Page.
Cantate Domino.