Christian Education.

An assortment of Catholic Christian Education links in the net.


American Catholic Online Home Page
A service of St. Anthony Messenger Press and Franciscan Communications, Cincinnati, Ohio, U.S.A., one of America's oldest and largest publishers of popular, inspirational and educational Roman Catholic spirituality resources.
The Catholic Bible School was opened in May 1988 in the parish of St. Richard's, Chichester. The project was founded and is organised by Michael and Joan Le Morvan, who are members of the Emmanuel Community and Oblates of St. Benedict .....This is an independent centre for adult religious education in the Catholic tradition.
Catholic Center at Georgia Tech
...in the Archdiocese of Atlanta...a campus organization dedicated to ministering to all students regardless of their religious affiliation or lack thereof. This goal is accomplished through active programs promoting prayer, study and play, thus embracing the total person concept of ministry.
Catholic Distance University
....the first catechetical institute in the United States to receive official approval from the Vatican Congregation for the Clergy in 1983 to offer adult education courses in the Catholic Faith and Catechetical Diploma by correspondence or distance learning.
Also see Franciscan University of Steubenville below.
CEF.
Welcome to the Catholic Education Forum (CEF: we pronounce it seff). CEF is brought to you by Aquinas Software. Please add questions, answers, and comments with thoughtfulness. Consider bookmarking this page.

CEN
Catholic Education Network (CEN) is the largest and most comprehensive Catholic Educational K-12 Site in the World.
Catholic Homeschoolers of Texas.
Web page dedicated to Texas Catholic Home Schooling families and with extensive links of interest for all Catholic home school educators...latest information from the dioceses around Texas when it affects home schooling and offer links to web sites of interest to you and your family...helpful to you as you continue in the traditions of Catholic home education...this site has replaced the Catholic Home Education Resource web site that was designed and maintained by Cynthia Weiser.
Catholic Homeschooling in Maryland.

Homeschooling is one of the best ways I know to grow along with your kids. Join us in our adventure! The emphasis here is Catholic homeschooling and the support group called Traditions of Roman Catholic Homes (open to all -- not just Catholics or homeschoolers).
Catholic K-12 Education Online.
Catholic K-12 Education Online is to help schools integrate technology and education... provide educators with information and multimedia technology for enhancing student learning and release student creativity.
Catholic School Education Benefits Students.
"...only 25% of the public-school students graduated at all, and only 16% took the Scholastic Aptitude Test (SAT) averaging a score of 642 in neighborhood schools and 715 in magnet schools. In contrast, 95% of Catholic school students graduated and 75% took the SAT averaging a score of 815...."
- Charlotte Harris, Director of Development,


Salpointe Catholic High School.
Catholic Schools, Colleges, and Academic Departments.
Include Pre-University Schools (Elementary and Secondary Schools), Universities and Colleges and Multi-national links.
Catholic Schools on the Net.
A Directory of Primary & Secondary Catholic Schools on the Net. Maintained by Marty Kirwan, housed by Scott Fabian.
NTU-Catholic Students' Apostolate Home Page.
Info on (National Technological University of Singapore) campus activities, links to Catholic sites and a Prayer Book to submit prayers.
College of Saint Benedict & Saint John's University
...two liberal arts colleges located four miles apart in Central Minnesota. Saint Benedict's is a college for women and Saint John's is a college for men. The students of these two colleges share in one common education, as well as coeducational social, cultural, and spiritual programs.
Franciscan University of Steubenville

Ever had the "calling" to do biblical or religious studies in a formalized way, like getting a degree but do not how, with all your current work and family commitments......The Way, the Truth, and the Life. That statement from John's Gospel is the foundation of all that they do at FUS .....try studying for a Catholic religious degree by distance learning, from FUS, without having to leave your present job or residence..Dr. Scott Hahn and other great professors at FUS will guide you through.
Also see Catholic Distance University above.
La Salle University in Philadelphia
Located in Philadelphia, Pennsylvania...was chartered in 1863 by the Legislature of the Commonwealth of Pennsylvania and is empowered by that authority to grant academic degrees. Run by the Christian brothers.

Not to be confused with La Salle University in Mandeville, Louisiana which was under the World Christian Church but now trying to seriously pick up the pieces under new management and direction.
Pontifical University of St.Thomas Aquinas
"Angelicum" Rome Pontificia Università San Tommaso d'Aquino, Roma. The Pontifical University of St. Thomas Aquinas traces its origins to the medieval studium of the Dominican Order in Rome. The College of St.Thomas was founded in the sixteenth century, and in the seventeenth century the pope authorized it to confer academic degrees in theology.
Resources for Catholic Educators.
Produced by the Immaculata Regional High School, Kelowna, British Columbia, Canada..includes Resources for Catholic Educators, Religious Studies Program, Useful and Interesting Sites, and more... Over 2300 links from Angels... Cults... to Reviews, Journals, Moral Issues, Religious Communities, etc., etc., etc. Need I say more? They're a hardworking lot at IRHS!!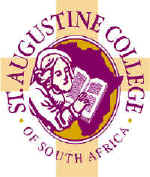 St. Augustine College of South Africa.

St Augustine College is an embryonic Catholic University which aims to be a community that studies and teaches disciplines that are necessary for the true human development and flourishing of individuals and society in South Africa. As a Catholic educational institution...



The Triumph of the Cross in Catholic Education.
...the primary goal of Catholic education is the exultation of Jesus Christ. Catholic schools and catechesis are meant to glorify the benevolent Savior Who willingly poured out His Precious Blood on Jerusalem's soil... He is to be raised up in every classroom dedicated to proclaiming the Catholic Faith...

Main Homepage
---
Any suggestions, for any suitable and appropriate site/ URL to be included here?
Click on your Browser's Back button, if you wish to return to the previous page.