AMDG
---
David Spiritual Links
---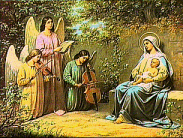 This Homepage is dedicated to Our Lady Queen of Peace.
And placed under the patronship of St. David.
---
Welcome to this Holy See Vatican Website
---

AlaPadre's Catholic Corner
Catholic Church miscellany..actually quite a massive corner or lists generally searchable in alphabetical order



American Catholic Online Home Page
A service of St. Anthony Messenger Press and Franciscan Communications, Cincinnati, Ohio, U.S.A., one of America's oldest and largest publishers of popular, inspirational and educational Roman Catholic spirituality resources.

Apologetics for Catholics and other Christians
Catholic Apologetics information explaining some of the biblical basis for what the Catholic Church teaches. A site maintained by Michael Gallagher

Apparitions of the Virgin Mary in Medjugorje

California's Holy Family Catholic Church
A modern approach to spreading the Word of God, and the Gospel of Jesus Christ. A World Wide Web catholic priest to answer your questions and to minister to your religious needs. Rev. Finbarr Devine is a modern minister with a quick Irish sense of humor!

...



Catholic Beliefs and Prayers.
The most comprehensive list of catholic prayers on line.

Catholic Calendar Page
A calendar listing the various feast days and Holy Days of Obligation according to the Roman Catholic Church. Maintained by Robert & Linda Easterbrooks.

Catholic Digest

CEN
Catholic Education Network (CEN) is the largest and most comprehensive Catholic Educational K-12 Site in the World.

Catholic Encyclopedia

Catholic Home Education Resources
Catholic Home Education Links including homeschooling links, homeschooling families, Catholic Resources, Catholic businesses that provide resources, Catholic home schools, Catholic homeschool organizations and adult Catholic home education.

Catholic Information Center on Internet
Founded under the Holy See Observer Mission to the United Nations, the Catholic Information Center on Internet is a non-profit organization providing Internet connectivity to Dioceses and parishes worldwide. Extensive internal databases available..

Catholic Information Network (CIN)
All free information service including Church documents; Mass readings; prayers; saints' lives; Pope John Paul II's writings; popular mail lists on homeschooling, Carmelites, charismatics, Eastern Church, pro-life, natural family planning; news and discussion

Catholic Internet Directory
Comprehensive Directory of Catholic Dioceses, parishes, organizations, and periodicals on the World Wide Web. Also includes Catholic newsgroups, Mailing Lists, Online services and E-mail directory.

CatholiCity
An Internet Service of the Mary Foundation. Home to Dozens of Catholic OrganizationsCatholiCity offers the ultimate cyberspace clearinghouse for Catholic information, interaction, prayer, and entertainment.

Catholic Mothers Internet Connection
A meeting place for Roman Catholic moms to discuss relevant issues. Maria Hernandez serves as Maintainer.

Catholic Online
Probably the largest and most comprehensive Roman Catholic Information Internet Site in the web.

Catholic Online Software's New American Bible

Catholic Resource Listing
A long list starting from Adoremus and ending with World-Faith Home Page

Catholic Webatorium
Info on popular Catholic devotions, and over 70 Catholic art images in Joe Brae's website

Diocese of Manchester Web

Douay-Rheims Bible
The Holy Bible as translated from the Latin Vulgate and diligently compared with the Hebrew, Greek, and other editions in diverse languages. The Old Testament was first published at Douay in 1609 A.D. and the New Testament by the English College at Rheims in 1582 A.D. Includes annotations, references, and an historical and chronological index. The whole revised and diligently compared with the Latin Vulgate, by Bishop Richard Challoner, from 1749 till 1752 A.D. Includes a preface by His Eminence James Cardinal Gibbons, Archbishop of Baltimore.

Heaven
Heaven offers fresh, insightful, humorous play on inspirational issues for people of all faiths. Heaven emphasizes spiritual, how-to advice for daily living. Brought to you by Catholic Digest.

Knanaya Catholic Community
This is the home page of the Knanaya Catholic Community, originating from India, which has spread around the world. The Holy See, at the beginning of this century, took note of the affliction of this community and their challenges; on August 29, 1911,Pope (St.) Pius X issued a Papal Decree to establish a diocese solely for them. Site maintained by Joseph Ellankil.

Mediatrix of all Graces.
Picture.

New Advent Catholic Website

.....



Our Lady's Five Weapons Of Salvation

Padre Pio's Homepage

ParokiNetFAQ

Personal Homepages

Pontifical University of St.Thomas Aquinas
"Angelicum" Rome Pontificia UniversitÓ San Tommaso d'Aquino, Roma. The Pontifical University of St. Thomas Aquinas traces its origins to the medieval studium of the Dominican Order in Rome. The College of St.Thomas was founded in the sixteenth century, and in the seventeenth century the pope authorized it to confer academic degrees in theology.

Quotable Quotes

Rosary Center
Website of the headquarters of the Rosary Confraternity of the Catholic Church, located in Portland, Oregon, USA; administered by the Dominican Fathers.

Saints Page

....

St. Paschal Baylon's Young Adult Community Home page
For Catholic young adults & info for/about Catholics & Catholicism.

...



The Rock

Young Saints Club
The Young Saints Club website is a source of stories, teachings, and puzzles to help young people to grow in their Catholic faith. Bruce Hart is the HTML Editor.

Peace be unto you for being visitor number:
since 17 September 1996.
---

Please sign the Guestbook
View The Guestbook

Message, comments or suggestions:

Send us an e-mail.
?
---
Launched on 14 September 1996: Feastday of the Triumph of the Cross
---

This homepage is still under construction. Please bear with us.