---
David Spiritual Links
---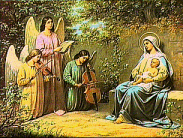 Praise to Jesus and Mary
This Homepage is humbly dedicated to Our Lady Queen of Peace.
And placed under the patronship of St. David.
---

Prayers to Our Lord Jesus Christ.


---

Prayers to Mary, the Blessed Mother.


---

Holy See Vatican Website.
---
Welcome to this homepage which is, in the main, regarding links to websites on spirituality, particularly Catholic Christian spirituality.
---

Rejoice, heavenly powers! Sing, choirs of angels!
Exult, all creation around God's throne!
Jesus Christ, our King, is risen!
Sound the trumpet of salvation!


---
May the Good Lord shower His Abundant Graces on all mothers today.

A most loving and happy mother's day to all mothers and godmothers today.
---

Apparitions
From the time of Adam, God has spoken to His saints and prophets through visions, dreams, and inner voices...
Akita Apparitions.
Apparitions of the Virgin Mary in Medjugorje
Catholic Apparitions of Jesus and Mary.

Associations, Clubs and Organizations.
Many Catholic Christian Associations, Clubs, Organizations and Societies thrive under the mantle of the Church. Here are several of those available on the net.
Catholic Mothers Internet Connection
Knanaya Catholic Community
Opus Dei
St. Paschal Baylon's Young Adult Community Home page
The Young Saints Club

Catholic Resources
There are plenty of sites dealing with Catholic Resources in the internet. Here are some of the better ones.
AlaPadre's Catholic Corner
Apologetics for Catholics and other Christians
Catholic Encyclopedia
Catholic Online
Catholic Resource Listing
Catholic Resources on the Net
Catholic Teachings
KDC
New Advent Catholic Website
Second Vatican Ecumenical Council
The Rock

Christian Education
Links to websites on Christian Education.
American Catholic Online Home Page
Catholic Home Education Resources
CEN
NTU-Catholic Students' Apostolate Home Page
Pontifical University of St.Thomas Aquinas

Christian Miscellany
An assortment of other Christian links in the net. In theory, anything good under the stars, regardless of color, can come in here, as long as it is relevant to the Catholic Christian Church and cannot be readily included in the other pages in this website.
AMDG
Catholic Calendar Page
Catholic Internet Directory
CatholiCity
Catholic Webatorium
Integrated Catholic Calendar: May 1997
Man of the Year, John Paul II
Padre Pio's Homepage/ Padre Pio Foundation of America
ParokiNetFAQ
Pornography
RCNet
Saints Page
Some traditional christian list
St. Ignatius of Loyola
Ten commandments for peace on roads.

Churches
Archdioceses, dioceses, cathedrals, churches, chapels are listed in this webpage reflecting the rich diversity, universality and unity of Holy Mother Church on this earth.
Holy See Vatican Website.
Archdioceses:

Roman Catholic Archdiocese of St. John's
Catholic Archdiocese of Singapore

Dioceses:

Catholic Diocese of Hexham and Newcastle
Diocese of Manchester Web

Cathedral:

Cathedral of the Immaculate Conception>
Sacred Heart Cathedral

Churches:

California's Holy Family Catholic Church
St. David's Catholic Church
St. Michael Church

Information, magazines and news.
Netsites on information and news on Catholic Christian activities..
Catholic Digest.
Catholic Information Center on Internet.
Catholic Information Network (CIN).
Heaven.
World Radio Network.
Apparitions
Homepage of the Immaculate
Mediatrix of all Graces
Our Lady's Five Weapons Of Salvation
Prayers to Mary, the Blessed Mother..Why do we pray to Mary?
Rosary Center
The Blessed Virgin Mary
Understanding Catholic Devotion to Mary;
Apollo13
Michael J. Brandt.
David Bryan Homepage.
Christina Covarrubias Homepage.
Welcome to Karen's Place: Home of the New Kid on the Block.
Don and Edith Morales.
Father Gary Ziuraitis Homepage

Prayers.
Websites dedicated to prayers.
Prayers to Jesus.
Prayers to Mary, The Blessed Mother.
Catholic Beliefs and Prayers.
Prayer in the Home Press, Inc.
Rosary Center
Powerful quotes from the Holy Bible, the Saints and others. Try to live them.
To date, the quotes are taken from:
The Holy Bible;
Our Lady of Fatima;
St. Augustine;
St. Bernard of Clairvaux;
St. Hilary;
St. Jacinta of Fatima;
St. John Chrysostom;
St. Margaret Mary;
St. Maximilian Kolbe;
St. Peter of Verona;
St. Therese of Lisieux;
Venerable James Alberione;
Pope John Paul II;
Alphonse M. Cappa, S.S.P.
Rev. Fr. John Gallagher, S.J.
Thomas a' Kempis: My Imitation of Christ;
Rev. Bede Naegale, O.C.D.; and
Other valuable sources.
Updated regularly.

Quotable Spiritual Quotes (Categorized)
The quotes from Quotable Spiritual Quotes arranged and listed under various categories including:
Anxiety/ Worry;
Calumny;
Charity;
Commandments;
Duty;
Eternity;
Faith;
Glory;
Happiness;
Hell;
Human weakness;
Inventions;
Joy;
Justice;
Love;
Material possesion;
Mind;
Prayer;
Pride;
Repentence;
Satan;
Slander;
Soul;
Suffering;
Temptation;
Work; and
Worry;
Updated regularly.
---

Safety on the web
---
New Page:
Integrated Catholic Calendar: May 1997.

---
---

Peace be unto you for being visitor number:
since 17 September 1996.


---
Suggestions for any suitable and appropriate site/ URL to be included here will be most welcome:



Send us an e-mail.
---
Launched on 14 September 1996: Feastday of the Triumph of the Cross
---