Quotable Spiritual Quotes.
Volume V.


I am Eternal Truth, incapable of any lie.
I am faithful to My promises.
-Our Lord to St. Margaret Mary.
---

There is need of living well, but there is even more need of dying well. A good death is everything, especially today where people think only of things and enjoyment here on earth, rejecting eternity.
- Blessed Louis Guanella

There is no holiness without the grace of God. And this grace can be obtained by our prayer.
- Pope St. Pius X.


There is no labor where one loves, or if there is, the labor itself is loved.
- St Augustine

There is nothing to worry, but if there is anything you need, pray for it, asking God for it with prayer ....
- Philippians 4:6.

This is the day the Lord has made; let us be glad and rejoice in it.
- Psalm 118: 24

Thou hast made us for Thyself, O God, and our hearts are restless until they rest in Thee.
- St. Augustine.

Thoughtfulness is the beginning of great sanctity. If you learn this art of being thoughtful, you will become more and more Christlike, for His heart was meek and always thought of others.

- Mother Teresa

To know Jesus and Jesus crucified is the sum total of my philosophy.
- St. Bernard of Clairvaux.

True repentance is to cease to sin.
- St. Ambrose.

Trust the past to the mercy of God, the present to His Love and the future to His Providence.
- St. Augustine.

Truth is not determined by a majority vote.
- Cardinal Joseph Ratzinger.

Water that does not flow and comes to a halt in holes becomes stagnant and filled with impurities.
In the same way, the body that is worn down by prolonged idleness produces and fuels the fire of covetousness and illicit pleasure.
- St. Bernard.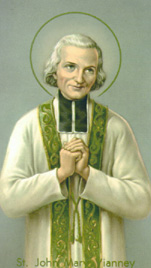 We do not have to talk very much in order to pray well.
We know that God is there in His holy tabernacle;
let us open our hearts to Him; let us rejoice in His Presence:
This is the best prayer.

- St John Vianney.

.



We may never make the church into a hallway, or a courtyard or highway, or a public square.
- Blessed Louis Guanella
(on proper reverence in a church)

We must remember that faith is the greatest gift that God has offered man on this earth, because from an earthly man he becomes a citizen of Heaven. Let us guard this gift jealously. Woe to him who forgets himself, who forgets Heaven, whose faith grows weak, and worse still (may God preserve us all) who denies his faith. This is the greatest affront that man can offer to God.
- Padre Pio .

Whatever you do, work at it with your whole heart, as working for the Lord, not for men.
- Colossians 3: 23.

Where Peter is, there is the Church. Where the Church is, there is Jesus Christ.
Where Jesus Christ is, there is eternal salvation.
- St. Ambrose.

Who can proclaim himself pure of all faults, and having no need of pardon?
- St. Peter of Verona , Martyr.

Whoever wishes to come after me must deny himself, take up his cross, and follow me.
- Mark 8:34.

With all your heart, honor your father, and do not forget the birth pangs of your mother. Remember that through your parents you were born; what can you give back to them that equals their gift to you?

- Sirach 7:27-28.




With three things I am delighted, for they are pleasing to the Lord and to men: Harmony among brethren, friendship among neighbors, and the mutual love of husband and wife.
Sirach 25:1.

Without Christ and His Grace, all our efforts and actions are in vain.
With Christ and His Grace everything, even the most insignificant act of our daily lives, become fruitful for all eternity.

- Rev. Bede Naegele , O.C.D.




You must aim to be saintly and religious, filled with faith and love, patient and gentle.
- 1 Timothy 6: 11


You were darkness once, but now you are the light in the Lord; be like children of light, for the effects of the light are seen in complete goodness and right living and truth.
- Ephesians 5:8-9

You will be hated and persecuted by all because of My Name. But the one who perseveres to the end will be saved. -
Mark 13:13.
You may like to use your browser's
FIND
command to search for keywords within this listing.
---
More Quotable Spiritual Quotes:
See

Volume I.
---
---
A new

Quote is (or should be) added to this page every weekend, or a little later;
alternatively you may choose to be notified on updates to this site by registering yourself.
In any case, please feel free to visit us as often as you like.

Main Homepage




Vol. V: Ther - Z : 25q.


Click on the Back button, if you wish to return to the previous page.
---
What a friend we have in Jesus.

---